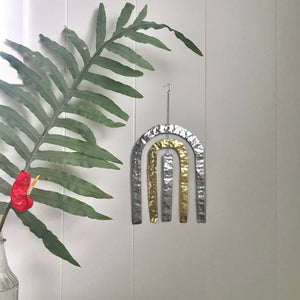 Hand cut and hammered, the Moon Bow Sun Catcher is made of galvanized steel and brass strung together with stainless steel chain. 
This intricate wall hanging measures approximately 14 inches long x 7.5 inches wide. 

This item is handmade in Hawaii, and may take 7-10 business days for production. 
Please note:
This item is handmade and each piece may vary slightly or have slight imperfections.
This piece is very delicate and edges may be sharp, so please handle with care and keep out of reach of children. 
The materials of this piece may change over time due to natural elements. This has been sealed with a protective coating to prevent any rust or tarnishing over time. Indoor use is recommended.